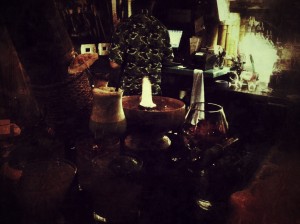 I spent a few hours drinking with friends at Denver's only tiki bar, Adrift. It's on Broadway in a fairly nondescript little building; you might miss it if you didn't know what you were looking for.
Two of my very favorite people in the whole world– both of whom I'm trying to recruit for this new site and both of whom would bring different voices and ideas to the place– fueled by shots, great stories, and, simply, the pleasure of each other's company.  It was a good night.
I don't drink as much as I used to. The expense is too great both in the wallet and in the next day's recuperation, so I'm feeling a little pain today. There are no regrets, though. I think there is something important about the ritual of spending quality time with friends who can hear your thoughts without judging them, who can argue with good cheer about everything from politics to music to bad movies.
I owe them a great thanks for their time and their friendship.
It didn't hurt that for the first time in my many years of drinking, I met a cocktail waitress who was almost as obsessed with Mark Lanegan and Screaming Trees as I am; nor did it hurt that I convinced the bartender to play the great Trees' song, "Silver Tongue," late in the evening. Even better, the small crowd in the place actually seemed to enjoy the experience and no one complained when the Trees kept playing.
Is there a bigger point? Probably not. Maybe just that life shouldn't be so mired in its political debates and disappointments that we forget to live and cherish even joys like these.
I'll be there again tonight with my wife and a handful of other friends. All women. It won't be quite the same (and I won't drink quite so much), but you can be sure that I'll be a happy man.
Any of my friends in the Denver area are welcome to join us. Just follow the sound of my laughter.