Adrian Wojnarowski's article about Carmelo Anthony is in turns harsh, praising, and insightful. I believe it is also right on the money in terms of the former Denver player's strengths and weaknesses.
For everything that Anthony has given USA Basketball as a talent, he hasn't always been able to sustain the world-class conditioning, deference on offense and determination on defense. And all these leaders surrounding him … well, they never made him one, too. His flaws have shown themselves within the Denver Nuggets and the New York Knicks, but Team USA is constructed to take all of 'Melo's good, and never been burdened with the bad.
Throughout his entire tenure with Denver, he was obviously talented but unpredictable and, ultimately, frustrating. His conditioning, defense, and focus were all areas of question– at least for me.  When Chauncey Billups showed up, it gave George Karl the equivalent of another coach on the floor to help keep Melo working according to game plan. It helped that Billups is not only smart (and exceptionally basketball smart), but also well respected and still talented.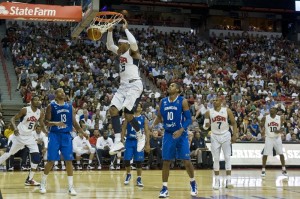 Melo's best season as a pro came with Billups acting as the glue that held together a team of odd talents and erratic ability. Melo can score points, but he has yet to prove that he has that uncommon skill to help others truly perform better. He also has yet to prove that he can really control a game in the way that players like Kobe Bryant and Michael Jordan managed.
I like Melo and I love the fact that he ushered in an era of winning for the Nuggets. We fans went a long time without having a team consistently making their way to the playoffs.
And, boy, I was happy to see him go. I lost faith in him to grow into the player that might deliver a championship to the Nuggets; and without that hope, why not look in new directions?
I still hope he does well and I hope he helps bring the US another gold medal, but I can't wait to see what the Nuggets look like this year without him. It's a rare team that can surround a man with the kind of talent that is on the Olympics team and, someday, he'll have to learn how to achieve greatness with a more human cast of supporting players.