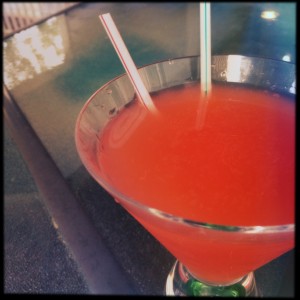 According to my wife, this one has a little tiny bite to it, which is where I found the name for this drink. Of course, it's entirely possible that someone else has made a similar drink and that it has another name– I did a cursory search, found nothing, and ran with the ball.
Chalk the little nibbles up to the generous dose of ginger flavor and the spicy bitters. More importantly, though, it's a sweet, cool breeze on a hot summer day.
Ingredients:
1 oz of Domaine De Canton
1/3 oz of Ciroc Vodka
2/3 oz of Seven Tiki Spiced Rum
Tspn of Grenadine Syrup
Tspn of Fee Brothers West Indies Falernum
5 drops of Angostura Bitters
2-1/2 – 3 oz of grapefruit juice
Pour all the ingredients into a shaker, fill the shaker with ice. Shake vigorously and strain into a large martini glass. Garnish with whatever citrus fruits you happen to have around the house. If you find it too sweet, dial back the falernum and grenadine to taste.
Note: don't settle for Rose's Grenadine. It adds sweetness without adding flavor– either buy a good grenadine syrup (like Monin or Sonoma, for example) or make your own from one of the recipes easily available online that has both the flavor and the color to finish off your drink properly.
I have a feeling that this one might serve as the basis for a few variations. It's easy to make and tasty with enough alcohol to be effective.