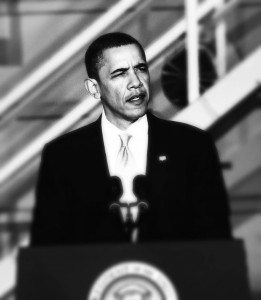 Somewhere over the last three years (give or take a few months) someone changed the definition of "worked" and failed to inform me. That's the only (polite) take-away from this:
"Just like we've tried their plan, we tried our plan — and it worked," he added later in the speech.  "That's the difference. That's the choice in this election.  That's why I'm running for a second term."

Obama made these comments in Oakland, Calif., where the unemployment rate was 13.7 percent in May 2012. The national unemployment rate is 8.2 percent — up from 8.1 percent in May — for the second straight month.
If by "worked," he means "successful," then it would be tough to find folks to agree with his idea of success. Higher unemployment, lower job participation, higher prices, collapsed housing market, and rising energy costs certainly don't feel like success.
Or maybe he meant "worked" as in "found jobs"– but that's even harder to justify since "working" is exactly what many people aren't doing these days thanks to a stalled economy and a sinking sense that America's future under Obama's stewardship hasn't exactly been polished to a pretty, pretty shine.
Which is funny, because he seems to think that we're feeling good about our collective future.
"Because we're leading around the world, people have a new attitude toward America. There's more confidence in our leadership. We see it everywhere we go," President Obama said at the Veterans of Foreign Wars convention in Reno.
While I'm sure that Russians and the Chinese are feeling more confident in "our leadership," it wouldn't be because they have American's best interests at heart. That smile you see, that applause from those corners, would only be their cheering our economic pain from the sidelines. Citizens of this country are far less pleased by our leadership– and not just for President Obama, but congress is seen, rightly, as spectacularly toothless and untrustworthy. The congressional job approval numbers are staggeringly bad. Even the Supreme Court has taken hits recently.
As for the question of whether our country is headed in the right direction, we, the people, seem decidedly nervous.
In fact, if President Obama truly believes that things are going well, then it is one more reason to vote for someone else. If he believes that, he's delusional. Don't get me wrong: I'd like for our leadership to be positive about the potential for our future and a true believer in the potential of Americans. I just don't want that positivity to come at the expense of a realistic view of our current circumstances in the same way that I don't want a doctor to tell me that the unstaunched flow of arterial blood is a sign of how great things are.
Candidate Reagan was relentlessly upbeat about the future of the country, but his optimism was always delivered with an understanding that we couldn't get to that shining city on the hill without changing course. Obama's upbeat speeches are simply an attempt to ignore and deny his own abysmal job performance.
Which is why, when most of us are worried about jobs and the economy, so many of Obama's surrogates would really rather talk about immigration, gay marriage, and Planned Parenthood.
I can't speak for anyone else, but I can tell you this: my priorities are rock solid. I'm not forgetting that this election is about all the folks who can't find jobs, the mountains of debt that just keep piling up, and the fear that four more years of Obama's leadership will leave us in even worse straights.